Home CCTV Install – Adel, Leeds (LS16)
Details of CCTV Installation:
4 x Hikvison HD IP Cameras

2 way audio through each camera

Advanced human detection capabilities

App setup and demonstration as part of install

Installation within the week

Quick and tidy installation
Looking for CCTV at your home?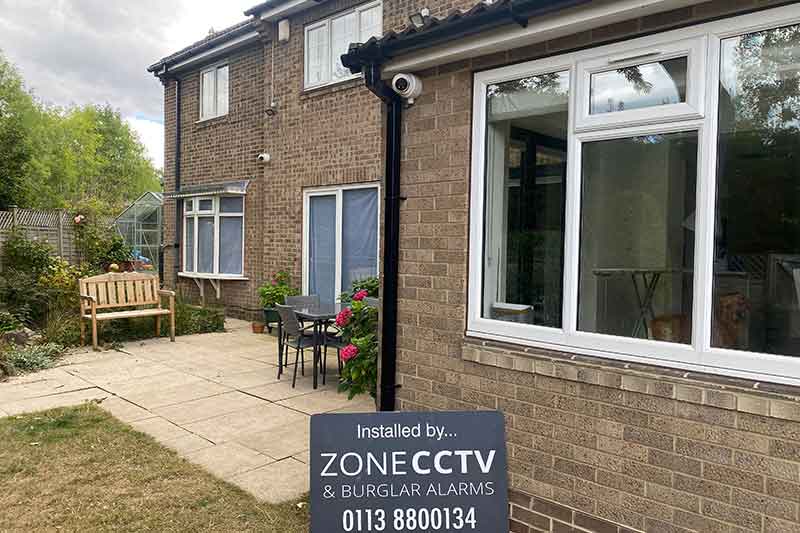 More info about this home CCTV installation in Adel, Leeds!
Zone CCTV recently installed a 4 camera Hikvision IP CCTV camera system to a property in Adel, Leeds, LS16. These advanced security cameras are compact with many features specifically conceptualised to prevent crime. The CCTV system will allow up to 4 detection lines per camera. Once a person is detected the cameras are programmed to flash using powerful inbuilt strobe lights. This would put a person on notice that the cameras are live and that they have been detected.
Once a person is detected the cameras will give the customer a live notification, allowing them to both hear and have a two-way audio conversation through a microphone and speaker built in to each individual camera. This will be administered through the system owners mobile devices, accessible from anywhere in the world so long as an internet connection is available. Whether you're in the property or working away, this is a nice feature to have; being able to communicate with anybody on your property without having to open the door and compromise a security risk.
Using the accompanying app, the customer can even remotely trigger the strobe light and the built-in siren. This will definitely put somebody off should they be snooping around the property. If the customer is out in the garden the notifications can easily be silenced through the app.
Full copper cat 5 cable was used to connect all the cameras to the network video recorder. This certainly ensured a degree of future-proofing, meaning the installation will perform at a high level for many years to come. The picture quality is fantastic and the system will record every second continuously for a couple of weeks. Additional memory can always be added to the recorder if required.
Our professional CCTV installers were able to hide all the cable so it wasn't visible from the outside. This customer was really happy with the installation. Read more customer testimonials on our Check-a-Trade page.
More CCTV installations from Zone CCTV