Home CCTV Install – Calverley, Pudsey, Leeds (LS28)
Details of CCTV Installation:
4 x HD IP Turret CCTV cameras

Latest Hikvision CCTV Cameras

Replaced poor quality doorbell camera with a quality CCTV security system

Quick and tidy installation

Advanced human detection capabilities

App set up including push notifications on mobile devices
Looking for CCTV at your home?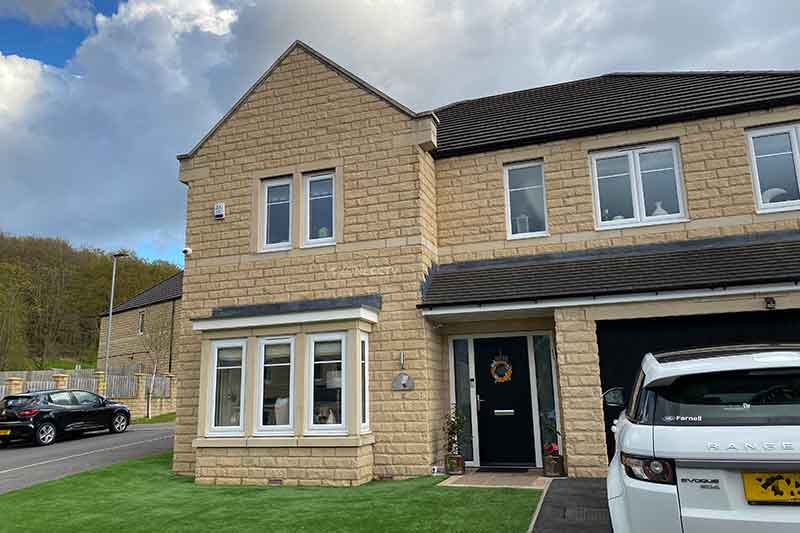 More info about this home CCTV installation in Calverley, Leeds!
Before contacting ZoneCCTV, this customer, from Calverley in Pudsey, Leeds, was originally relying on a doorbell security camera to protect his property. He found it would only record on motion and he kept on getting too many false notifications, not to mention the ongoing cloud storage costs! Fed up with the cumbersome admin and unreliable security features, he booked in a site survey with ZoneCCTV to see what we could recommend for his property in terms of crime prevention and protection.
We gave the customer options for both a TVI system or – to really future proof the security – we discussed the possibility of the IP range of security cameras. After providing a complimentary site survey, ZoneCCTV sent through the quote and the customer opted to go for the IP cameras with the advanced human detection. This would allow him to be accurately notified directly on his mobile phone if anybody was to walk onto his property.
A little concern was expressed with regards to what the cameras would like like and how the cables might be hidden to preserve the aesthetics at this lovely property. Our CCTV installation engineers took their time to explain exactly how we would neatly install the cameras before any work began. ZoneCCTV would only ever start a job installing quality security cameras when the customer is fully satisfied with the installation plan.
Once the new CCTV camera system was installed, our engineers also set up the accompanying app on their mobile phones which allowed them to receive any human detection alerts and view the cameras live from anywhere in the world – all from the palm of their hand!
More CCTV installations from Zone CCTV