Your local Harrogate-based CCTV Installation Experts
Open 7 Days a Week
Call Zone CCTV today on 01423 206 840 for a free site survey
ZoneCCTV – the #1 Choice for CCTV in Harrogate
Home CCTV Installations by ZoneCCTV in Harrogate
Commercial CCTV Installations by ZoneCCTV in Harrogate
CCTV Installers In Harrogate
Zone CCTV are a local Yorkshire based company servicing residential and commercial customer in and around Harrogate. Our mission is to greatly improve security and reduce crime for homeowners and businesses operating in Harrogate, North Yorkshire. We strive to achieve our mission by ensuring that our customers have access to the widest range of high quality security products from recognisable brands like Hikvision.
Here at ZoneCCTV, we believe passionately that prevention is always better than cure – and we can certainly recommend the appropriate security solutions to prevent crime from occurring at your residential or commercial property. The safety and security of Harrogate homeowners and businesses is our absolute top priority.
Zone CCTV have developed significant expertise supplying and installing high definition CCTV to homes and businesses in and around Harrogate. Whether your Harrogate property needs a one camera install, or a 90-camera bespoke CCTV installation, our team have the experience to cater for any security project.
Our engineers have worked in the security industry for many years, tackling the toughest of jobs and gaining valuable first hand knowledge seeing the damage criminals can cause. This experience ensures our engineers can identify and immediately point out any vulnerabilities with the property and bring it to the owners attention when considering new security products.
High Definition Wired CCTV Installations in Harrogate
CCTV picture quality has significantly so much over the last few years. Continuous developments in IP technology means that cameras can be installed with high speed ethernet cable without the need for extra camera power supplies and BNC connectors. This enables our team to install CCTV cameras offering exceptionally high picture quality – and even two-way sound – with minimal impact on the aesthetics of your property.
The CCTV cameras our engineers install at homes and businesses around Harrogate deliver crystal clear HD footage at the full 1080p resolution. The cameras can go up to 4mp, which is a fantastic feature to have when zooming into a picture or while playing back the footage. Naturally, due to the increased amount of pixels the cameras have the ability to record, our customers are finding they need the best quality DVRs and SSD hard drives to store multiple days, weeks (sometimes even months) worth of HD CCTV footage. Our team can advise on all of this, ensuring you get a future-proof CCTV system which you can rely on to deter crime and support prosecutions.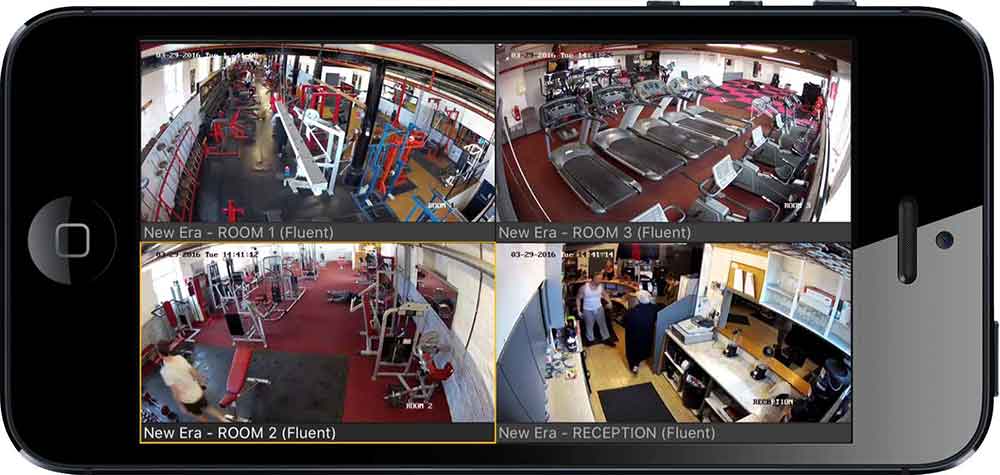 Smartphone CCTV Viewing
Smartphone CCTV allows our customers to view the footage being captured by their HD CCTV cameras in real time on their mobile devices. You can view the footage securely through an app, which our engineers will assist you in setting up as part of your CCTV installation. Your footage is private and secure, requiring a login to access.
Depending on which CCTV cameras you choose to have installed at your home or business, you could have access to more advanced smartphone CCTV features like moving around your pan-tilt and zoom cameras and even speak through installed CCTV speakers.
Harrogate residents and business owners who want high quality CCTV cameras they can view from anywhere in the world on their mobile devices should contact ZoneCCTV today!
Learn more about our Smartphone CCTV features.
Home CCTV Installers in Harrogate
More and more homeowners in Harrogate who are looking to protect their properties from burglary, theft and anti-social behaviour are choosing to have a CCTV System installed by ZoneCCTV. We don't cut any corners where home security is concerned. Our engineers have many years of experience in designing and installing high quality CCTV camera setups at properties of various sizes.
ZoneCCTV offer a wide variety of home CCTV installation packages for customers in Harrogate. Whether you need 1 or 20 CCTV cameras to secure your home, our team can help. Contact us today and book your free site survey where one of our team will review the security needs at your property before providing a proposal and quote to install a bespoke CCTV package that will help deter criminal activity at your home.
Commercial CCTV Installers in Harrogate
ZoneCCTV offer custom CCTV solutions for any business in any industry and we have completed a number of commercial CCTV installations in Harrogate over the past couple of years which have left businesses in the area safer and more secure.
All our commercial CCTV installations include smartphone monitoring as standard and we can consult with business owners on more advanced security features like video analytics, object monitoring and setting up perimeter notifications.
Hotel CCTV Installations Harrogate

Pub CCTV Installs Harrogate

Restaurant CCTV Installs Harrogate
Car Showroom CCTV Installations Harrogate

Factory CCTV Installs Harrogate

Public Sector CCTV Installs Harrogate
All Calls are Handled by Qualified Engineers
Home CCTV Installations Harrogate

Commercial CCTV Installs Harrogate

Pub CCTV Installs Harrogate

Restaurant CCTV Installs Harrogate

HD CCTV Installations Harrogate

100% customisable CCTV packages

Night vision cameras available
Check out our recent CCTV installations in Harrogate & Wetherby